Now the technical and official version:
A well trained
ScoopyPoo
Scooper will visit your yard weekly, twice a week, or every other week. Using our doggy charm and effective search methods we locate all the "landmines" left behind your furry friends. Armed with all the tools to safely and effectively remove the dog poop, the scooper will scoop the poop and place in a double, anti-smelly plastic bag that is then deposited into your garbage.
Dirty Disclaimer: Minnesota considers dog waste a hazardous waste and is not to be transported commerically
We practice safe poo removal.

We disinfect all tools & shoes.

We only use clean poo humor.

We are insured and committed to Uber-customer service and been in business since 2002!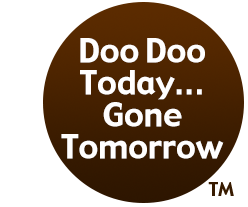 When Fido smells poo, it may cause him to drop and roll in it—or, yuck, even ingest it (this is commonly called "poo snacking")