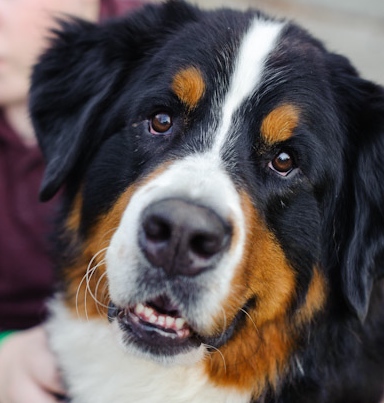 A warm tail wag to all that read this…..
I am a Mommy's Boy, couch potato, house dog, office dog and Bernese Mountain Dog named Bode.
My hobbies include: food, sleeping, treats or more food, napping as opposed to sleeping….then going outside to pee and poop. I live in Minnesota and my most favorite time is snow season. I love sitting on a snow pile and watching humans, cars and buses go by. I don't chase any of them because that would be way too much work. As it is…..its lots of work being the office dog, couch potato and keeping track of my Human Mom! I need to make sure we are at least in the same room together!
Now it is July in Minnesota……I must limit my work and movement because I just get too hot!
I like to stay inside and rest…..unless there is a big pond outside. I mean"BIG" with floating toys on it…..usually at the end of funny narrow walkways that I can't quite pee on….and if I jump just right I can ride on those floating toys! I won't tell you what happens when I don't jump just right…because it is too embarrassing.
To get to that BIG pond I must sit, I mean sleep, in the car for a time longer than I can describe and then when my Humans open the door….I can smell it! Water, lots of water, cool breezes and lots of green grass under the trees….and thats when I actually jump out of the car and trot, lets be clear I don't run but I trot to the side of BIG pond! Thats the best part about the warm months of summer! Its a sad thing though, It doesn't seem like we are there very long…..and then its back into the car for a nice snooze and…..its a miracle!!!….. I am back at my home…..inside and back on the cool tile floor.
The main purpose of my life is to be with my Human Mom. She works all the time…she has an office that I go to every morning except when I don't go. We go on many adventures….I am so lucky because my Human Mom takes me everywhere! We visit places, meet people and I get to sniff and pee in new spots all the time.
I am so lucky…..and thats why I am doing this blog…..the places, the food, and the people I meet….I plan to share them with you.…I will walk, amble maybe even trot, then stop, sniff, maybe even pee. Most likely I will pause for a break but never, ever will I run through this great adventure! You need not worry about being left behind.
Whew! Time for another break its been a long hard day already……
If you want your yard to be poo-free like mine, call my mom at 612-374-3000 or go online!